The 25th Annual Putnam County Spelling Bee
Directed by Christina Roberts
Music Direction by Adam White
JANUARY 5TH - 7TH, 2017
Bas Bleu Theatre
401 Pine St. Fort Collins, CO
THE 25TH ANNUAL PUTNAM COUNTY SPELLING BEE follows six young spellers in the throes of puberty as they learn that winning isn't everything and that losing doesn't necessarily make you a loser. Six spellers enter; one speller leaves! At least the losers get a juice box. Add in a vibrant score, a Tony Award-winning script, a heavy dose of improv, and heaps of audience participation, and you'll get swept away by this fast paced, witty, charming musical. Tickets are $15 in advance and $20 at the door. Buy early to save!

Like us on Facebook for Behind the Scenes videos and updates from the cast and crew!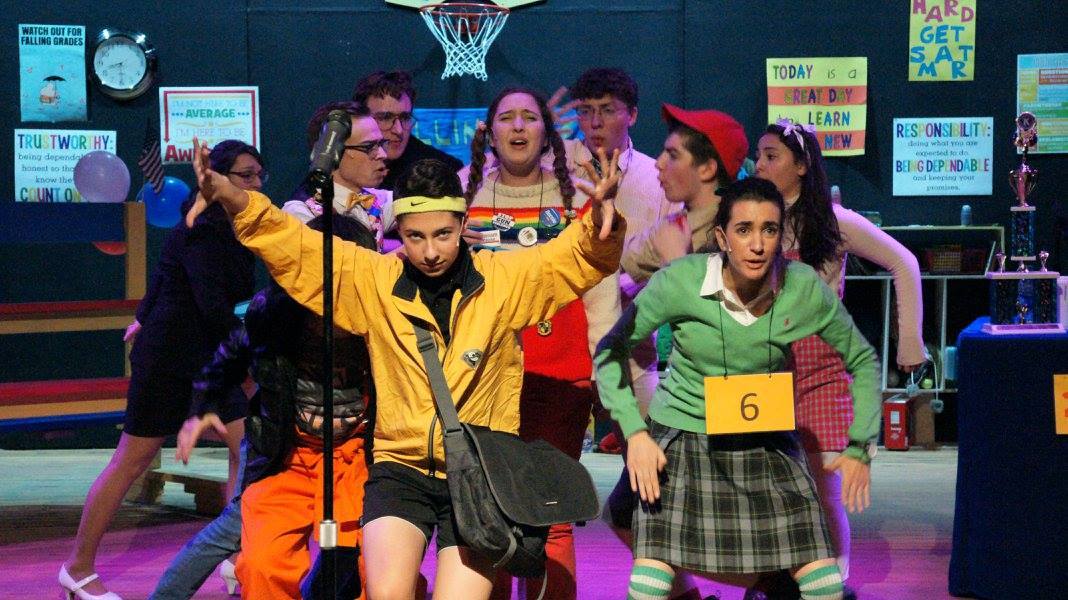 AUDITIONS: 25th Annual Putnam County Spelling Bee
Q1Go Productions Announces Auditions
for their winter musical! Seeking high-school and college aged actors!

The 25th Annual Putnam County Spelling Bee
by Rachel Sheinkin & William Finn
Directed by Christina Roberts
Music Direction by Adam White
DATE: Friday, October 14th, 2016
TIME: 6:00 PM -- 10:00 PM
LOCATION: Boomer Music, 3761 S. Mason St. Fort Collins, CO
PREPARE: Please bring a copy of your resume/headshot and list of conflicts for the rehearsal period.
CALLBACKS: Saturday, October 15th from 3:00 - 5:30 p.m. Actors will be notified by email or phone Friday night if they will be needed at callbacks.

Video auditions will be accepted at the discretion of the director.

YOUR AUDITION: You will be asked to perform a 30 second to 1-minute comedic monologue and 32 bars (approx. 45 seconds - 1 minute) of a song in the style of the show. You may perform a song from Spelling Bee. An accompanist will be provided. The directors will be looking for instinct, choices, character, and presence. Call-backs will consist of improv activities and cold reading from the script.
PERFORMANCES: The production runs January 5th - 7th at the Bas Bleu Theatre in Fort Collins. Specific performance and rehearsal schedule will be available at auditions.

REHEARSALS: Rehearsals will begin on or around October 21 (to account for time off around the holidays). We typically rehearse Monday evenings and weekends with a few Thursdays peppered throughout the process. We will have a required parent meeting for those under 18 on Monday, October 24th.

TUITION: As an educational theatre start-up, Q1Go asks that cast members contribute to the process through tuition. If cast, tuition for our program is $225.00 for the winter season. We understand tuition can be a burden for young actors and actresses (and college costs like textbooks are super expensive during the fall!) so we also have the option for cast members to sell tickets to cover the cost of their tuition. O
CASTING BREAKDOWN:
William Barfee
Eb3 - Bb4 Tenor
A finalist in last year's Bee, he spells using his "magic foot" and has no interest in making friends at the bee. This role requires a strong character actor with impeccable comic timing and the ability to create his own character. He must a strong tenor character voice, though, and be an above average dancer.
Olive Ostrovsky
B3 - F5 Soprano
The heart of the show, Olive is basically deserted at the bee. Her mom is in ashram in India and her dad never shows up, even after promising that, this time, he'll try to make it. Her best friend is a dictionary. This role requires an actress who, despite her meek appearance, has an incredibly strong voice and belt.
Leaf Coneybear
A2 - G4 Baritone or Tenor
As just the second runner-up in his district's bee, he really shouldn't be competing here. He makes his own clothes, is home schooled with his hippy parents and siblings, and lacks social skills. He's strange but very sweet, loving and kindhearted but distracted. This role allows a ton of personal interpretation and requires physical comedy (i.e. falls). This role also includes playing Logaine's first father.
Marcy Park
B3 - E5 Soprano/Mezzo-Soprano
Marcy is the most feared and practiced competitor in the bee. She made it all the way to ninth place in Nationals last year and is back to win again. She sleeps three hours a night, speaks six languages, and does not recognize her own lack of humor. She is incredibly intense. We would prefer an actress with unique talents (i.e. playing piano, twirling batons, juggling, gymnastics) but are open to all interpretations.
Logaine Schwartzandgrubenierre
C4 - D5 Soprano
Logaine is the youngest and most politically-aware speller, often making comments about current political figures and her mature world views. She has two overbearing gay dads who have turned her neurotic and self-conscious. She speaks with a lisp though has a real confidence about her at times.
Chip Tolentino
C3 - B4 Tenor
Last Year's Putnam County champ who begins to learn the ups and downs of puberty during the bee. He is strong willed, competitive, and ambitious. This role has some of the most difficult singing in the show and requires long sustained high notes. This actor also plays Jesus in the dream sequence.
Mitch Mahoney
E3 - A4 (B4) Tenor
This former felon is fulfilling his court ordered community service at the bee and acting as the bee's "comfort counselor," handing our juice boxes and a dose of reality to the losers. He comes across as scary and tough but is really a big softy deep down. He also plays Logaine's second father.
Vice Principal Douglas Patch:
Non-singing (but can be added to ensemble numbers if actor can sing)
He was involved in an "incident" at the Twentieth Annual Bee that got him removed from the judging panel. He returns this year in "a better place," thanks to a high-fiber diet and Jungian analysis. He is infatuated with Rona Lisa Peretti. We are looking for a strong character actor with impeccable comic timing and the ability to improv. While he does not need to sing, he is the most important role in the entire show as his improv controls the action and moves the show forward.
Rona Lisa Peretti:
C4 - A5 Soprano
This former Spelling Bee champ is not only the county's top realtor, she also runs a highly lucrative e-Bay business, selling sensible pumps at sensible prices. She is incredibly kind to the spellers, having been in their shoes many years earlier. Should have both a high belt and improv skills. Along with Panch, she guides the comedy of the show and the audience volunteers.

Questions? Email Q1Go Productions Artistic Director Christina Roberts at Q1GoProductions@gmail.com
For audition signups, please visit this link.